Beyond First Class
Some airlines far outdo roomy seats and champagne. Fancy flights with beds, mini bars, showers, and more can be had for as "little" as $13,000.
Liquid Van Gogh
Watch as this artist brings famous Van Gogh paintings to life with water and paint in a graceful and fascinating marbling process. It's mesmerizing.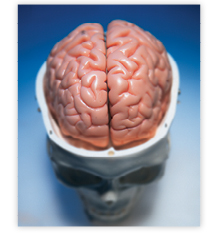 A "no brainer" is something that is obvious, logical, and easy. What you may not know is there's a whole day dedicated to taking a break from thinking too hard. No Brainer Day is celebrated each year on February 27.
What should you do on No Brainer Day? It's really more about what
not
to do. This is
not
the day to over analyze anything. However, it's the ideal time to complete easy tasks. West Central Telephone suggests you make "no brainer" moves such as:
Download the SmartHub app to view and pay your bill online. Download app from Google Play or Apple iTunes App Store. You can also use SmartHub from www.wcta.net. It's quick to do and will save you time and money each month on bill paying.
Sign up for Manage MyWi-Fi. We'll replace your router and support all of your Wi-Fi needs for one low monthly fee. When connecting your devices, you just want everything to work. With Manage MyWi-Fi, your online experience will be more enjoyable and you'll instantly be glad you made the upgrade.
We hope you give your brain a holiday and enjoy No Brainer Day this year!


Wheel of Fortune
Can't get enough WOF? There's an app for that! Solve puzzles, collect prizes, and compete with players from around the world.

Learn more...


Glympse
Whether you're running late or just want selected friends to know you're safe, send a Glympse to show your current location.

Learn more...


Quik
Use this app to make impressive videos. With just a few taps you can add text and music, trim shots, and select filters and formats.

Learn more...
How to Improve Your Heart Health
heart.org – February is Heart Health Month, and you can find out more about how to keep yours going strong at the American Heart Association's website. Explore information about heart conditions and check out tips for healthy eating, physical activity, weight and stress management, smoking cessation, and more.
See Earth From Space
ustream.tv – Have you always wanted to go into space? This site offers the next best thing, allowing you to observe Earth as seen from the International Space Station. You can enjoy the view in real time or observe a scene from a few hours or a few days ago.
Food Favorites For February
foodnetwork.com – With several more weeks of winter remaining, you may need some fresh ideas for warm comfort food, and this site can help. With tantalizing photos and complete recipes, the slide show offers great suggestions like 5-Star Lasagna Rolls, Cajun Stuffed Peppers, and Slow-Cooker Taco Soup.
Instructables
instructables.com – Looking for some fun projects to satisfy your DIY urge? Check out this site for items ranging from jewelry to home improvement to toys and games. Try a hand-sewn mini elephant plush toy, a wooden tape dispenser, a magnetic garage shelf, or a pair of beaded earrings.
We hope you found this newsletter to be informative. It's our way of keeping you posted on the happenings here. If, however, you'd prefer not to receive these bulletins, please see the links at the bottom of this email to manage your preferences.
Thanks for your business!
Best regards
The West Central Telephone Team
Internet Specialists
West Central Telephone

308 Frontage Road Box 304

Sebeka, MN 56477

1-218-837-5151 or toll free at 1-800-945-2163




©2017 Cornerstone Publishing Group Inc.

Trademarks: All brand names and product names used in this eNewsletter are trade names, service marks, trademarks or registered trademarks of their respective owners.