Maasconi's Char & Bar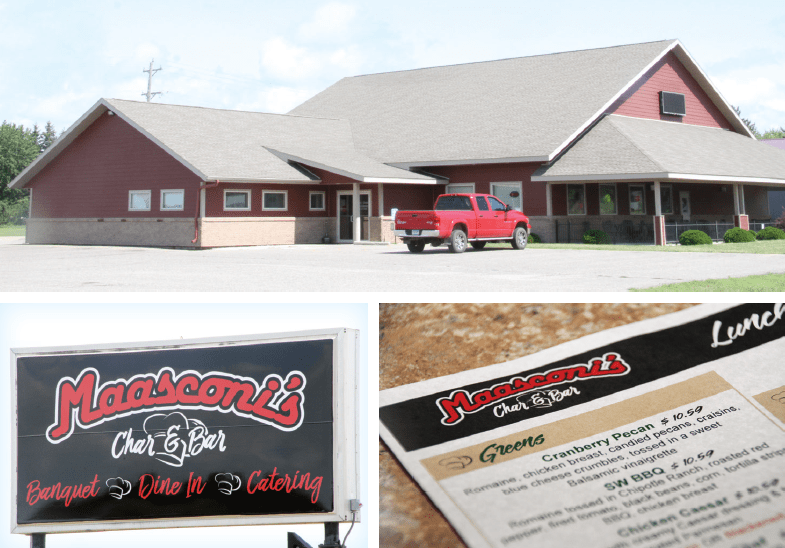 Location: Verndale, HWY 10
Hours: Tues – Thurs 11am – 9pm; Fri & Sat 11am to 10pm; Sunday 10:30am to 2pm
Jim and Kim Maas, former owners of The Uptown restaurant in neighboring Wadena, purchased the Bullseye Bar & Grill and reopened this summer as Maasconi's Char & Bar. Maasconi's is a destination that will satisfy you and your family with fresh, madefrom- scratch meals in a casual dining atmosphere. You'll also find a vast menu of on-tap beer, wine and liquor.
Maasconi's serves items such as Thai chicken flatbread pizza, hand-cut steaks, Gouda mac with candied bacon, shrimp and fish, and homemade tator tots. Their beer lineup includes fresh craft beer from Gull Dam Brewing in Nisswa and Disgruntled Brewing in Perham.
The couple agreed that it's great to be back in the area, saying, "We're excited to meet new customers, and happy that we're seeing a lot of our old customers from The Uptown. Maasconi's uses our Internet service for their point of sale system, and they also turned up the Wi-Fi for their guests. Jim added, "Having strong, reliable Internet service that West Central provides over a fiber network is important for our business. In addition to delicious food, we offer our guests reliable Wi-Fi because we believe that is also part of a great customer experience."
For casual dining with to-die-for appetizers and entrees, visit Maasconi's Char & Bar in Verndale. For information on Internet service with strong Wi-Fi, contact West Central Telephone at 837-5151.