Trailblazing for Today
West Central Telephone Association (WCTA) is a full-service cooperative telecom.
We deeply understand the need to have a technology infrastructure in our rural communities so that people and businesses thrive in a competitive future.
We've been busy transforming the area's communication with fiber-to-the-premise technologies. It's no exaggeration to say we're a trailblazing technology model for areas across the rural United States. Our services are that good!
Nationally recognized as an NTCA Gig-Capable Internet Provider, we deliver broadband speeds up to 1 Gig (that's 1,000 Mbps!) to all of our members over our 100% fiber optic network. The network includes over 1,700 route miles of fiber and spans a 695 square mile area.
We love our customers and work hard every day to bring you ultra-fast internet service and so much more. The future is bright, because we're ready today.
Thank you for choosing West Central Telephone!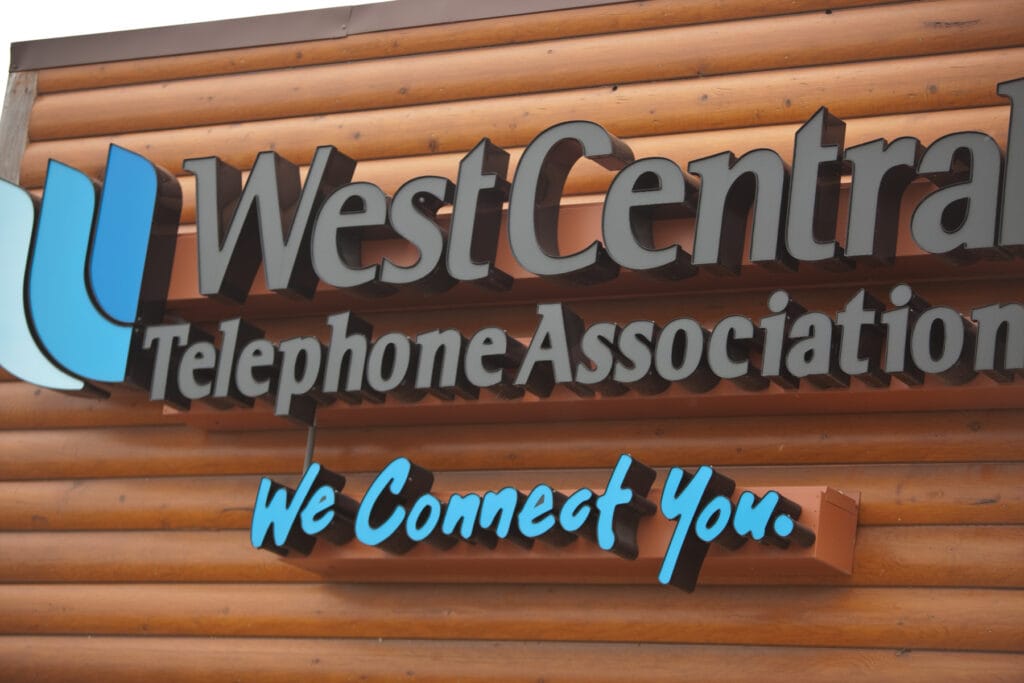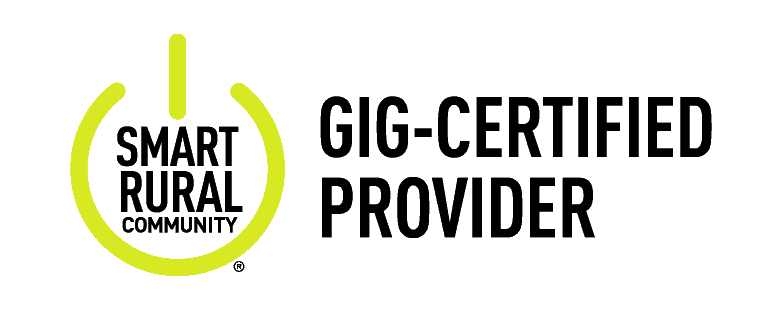 Local Telephone Service Area
The following communities receive their local telephone service from WCTA.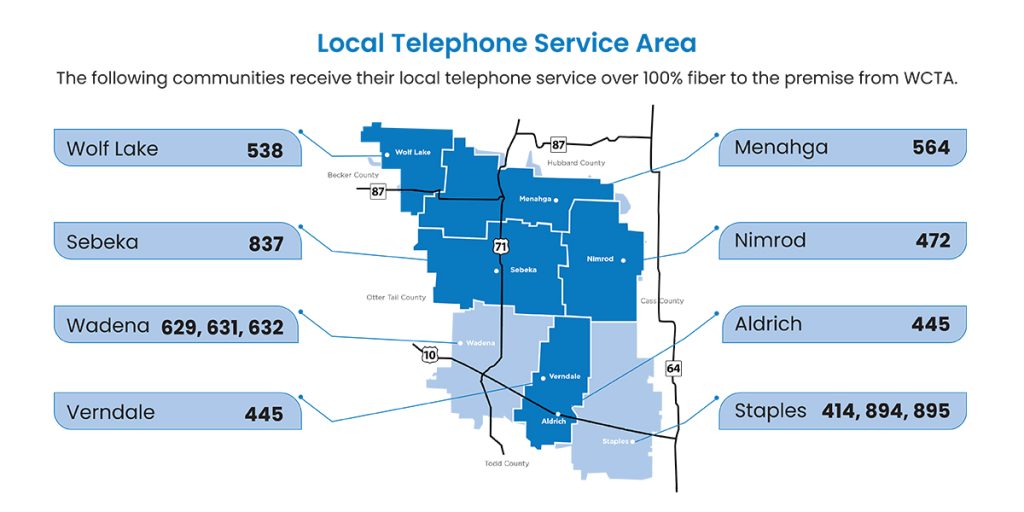 Automatic Co-op Membership
You automatically become a member of the Cooperative when you sign up for local telephone service. That's it, you're in! No dues or forms required.
You're An Owner with Perks ($$$)!
As a member of West Central Telephone Association, the cooperative, you are part owner. How it works is that each time you subscribe to services like fast internet or TV you are not just a customer. You are making an investment into the company. From that point forward, you are an owner!
As an owner of this cooperative, you are entitled to amazing benefits (not available to customers of private or big-name telecom companies). These benefits include:
Community Investment: Our priority is to invest in technology for our members, businesses, and schools. As a cooperative, we aren't here for profit. We're here to first ensure this area has the communication tools needed to thrive. We are consistently striving to meet the needs of the community and create partnerships.
Voting Rights: The democratic model of a co-op is one of its finest assets. You elect each representative on the Board of Directors meaning all owners have an equal say in the governing of the co-o. Their role is to ensure the cooperative provides the highest quality, best value and latest technologies for you and protect your investment.
Capital Credits: Any net profit is allocated back to members in the form of Capital Credits. Your percentage is tied directly to what you've invested—in other words patronage. It's ultimately cash-back, in your pocket (ca-ching)!
Special Events: In addition to the Annual Meeting, members receive invitations to open houses, holiday celebrations and more. We bring the community together.
We're determined to do our part, so you can enjoy life and be wildly successful in today's global economy. Go get 'em!
Our Mission
West Central Telephone shall strive to provide exceptional and professional customer service, to promote customer ownership at all levels, and to be a progressive communication services provider with the vision to plan for and provide the services customers may need and want in the future, encouraging individuals and communities to thrive.
Articles of Incorporation
To learn more about the Cooperative, refer to the Articles of Incorporation and Bylaws that are printed in the front of the WCTA telephone directory.
History
West Central Telephone has been a driver of community and regional development for all of its many decades of service. We're one of about 260 telephone cooperatives, serving more than 1.2 million Americans across the nation.
Democracy In Action
Telephone services thrived in big cities during the first part of the 20th century. Yet, due to the sparse population of our area, big telecom companies would not make investments here. That's when innovative farmers of the region took matters into their own hands. They banded together as a cooperative to make it happen.
On September 7, 1950 area farmers formed West Central Telephone Association (WCTA). Articles of Incorporation were filed on October 9, 1950. The State of Minnesota approved incorporation on June 16, 1952. Then the magic, and hard work began.
WCTA's technology has evolved through many lifecycles, but one thing hasn't changed… commitment to members and our communities.
From the 1955 Telephone Directory:
"We should ask that our patrons refrain from rubbering. Cutting in several phones across a party line that is being used may reduce the efficiency of the line to a point where the persons conversing may be unable to hear."
Let's Start a Conversation
Always a human. We're good with however you like to communicate so call, email, or just say yoo-hoo in person (drive-up and lobby available).
A Quick Response | Thoroughness & Expertise | Action & Follow-up
© Copyright 2023. West Central Telephone Association