Business Conference Calling
Experience the Difference
Have you ever attended a conference call and due to quality and voice delays, things seem chaotic? When the service is poor meetings don't function well. And, video calls are great, we love them, but… sometimes voice-only conference meetings will serve your needs better by eliminating visual distractions and the very real 'Zoom fatigue'.
Try West Central Telephone's Conference Calling service.
No voice delay & eliminate visual distractions
Get a recurring dedicated call-in number
Use it 24/7, up to 46 people per call
Call recording is available
How Much Does It Cost?
With local or toll-free options, your conferences remain affordable for everyone.
No per-minute fee for attendees dialing into the local number
.30/minute for attendees dialing into the toll-free number
.14/minute for out-dials
$10 set-up fee and $1/attendee per conference
Conference Bridge Option
Get a business-grade conference bridge speaker and your meetings will be a breeze. Although you can use our conference service with any standard phone, this speaker system is designed for clarity and performance in offices and conference rooms.
Ask us for a quote on the Polycom conference bridge today.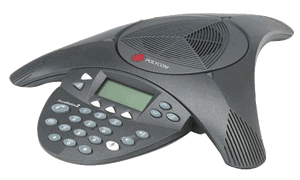 It's as Simple as 1-2-3
Tell Your Callers
Give your callers the conference bridge telephone number and participant code, along with the date and time of the call.

Open Your Conference Call
When it's time for your call, dial into the conference bridge telephone number and enter your moderator code.

Get the Call Moving
You've got a clear agenda and are ready to run the conference call quickly and efficiently with your group.
That's it! Save time and money with West Central Telephone's On- Demand Conference Calling.
Record Calls & Get Everyone Up-to-Speed
---
Conference Calling from West Central Telephone is a simple, reliable, and efficient way to get everyone on the same page. For those who cannot make the meeting, just send them the recording so they can listen later and get up to speed.
Let's Start a Conversation
Always a human. We're good with however you like to communicate so call, email, or just say yoo-hoo in person (drive-up and lobby available).
A Quick Response | Thoroughness & Expertise | Action & Follow-up
© Copyright 2023. West Central Telephone Association