Erik J Olson CPA Ltd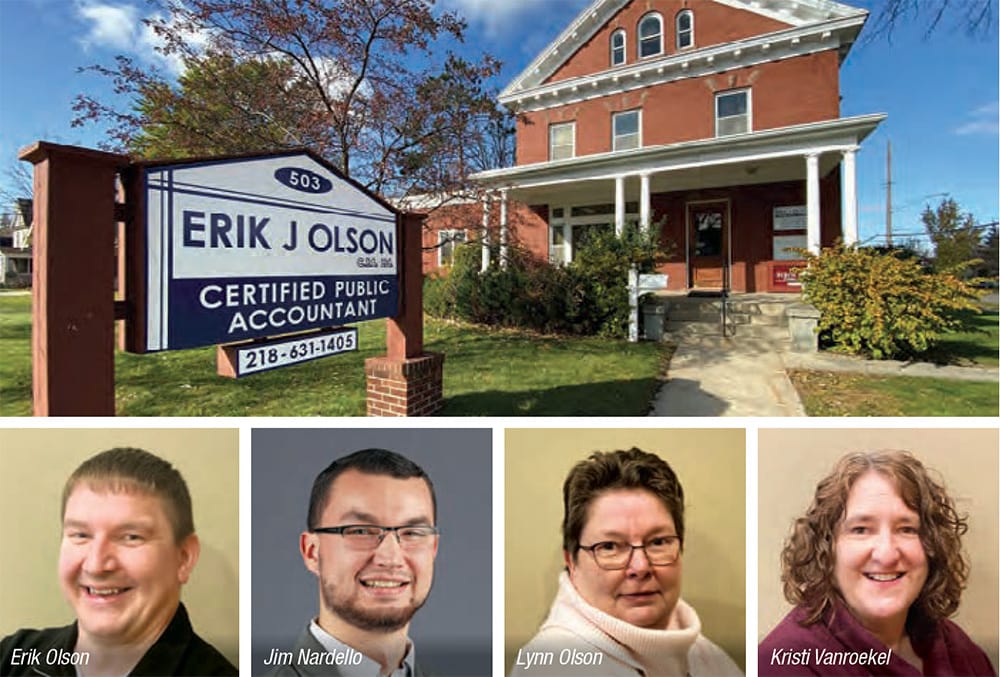 Erik J Olson CPA Ltd is a local accounting and finance firm located at 503 Jefferson St S in Wadena. They specialize in personalized financial consulting, tax accounting services and other services to meet your financial needs. Unlike some firms, Erik J Olson CPA Ltd will do more than just prepare your business or individual tax return; they also offer continuous tax planning so you can achieve your full financial potential.
Erik Olson is the owner of the firm and was born and raised in Wadena. Erik earned his BS in accounting at St. Cloud State University before becoming a licensed CPA. He opened his own practice in 2012, and now has 17 years of experience under his belt.
Jim Nardello, also a CPA at the firm, earned his BBA in accounting from Hamline University. Jim works with a wide range of clients in many industries.
Lynn Olson is the Office Manager (and Erik's mom). Lynn keeps the office running smoothly and handles bookkeeping, corporate tax returns and customer service.
Kristi Vanroekel is the Staff Accountant specializing in payroll.
Erik J Olson CPA Ltd trusts West Central Telephone's business support services to keep their network running smoothly and ensure that the important work they do is backed up and safe-guarded properly. We encourage you to trust the folks at this firm to help with your financial needs. For more information, call 631-1405, email kristi@ ericjolsoncpa.com or visit www.erikjolsoncpa.com.