Johnson & Son Well Drilling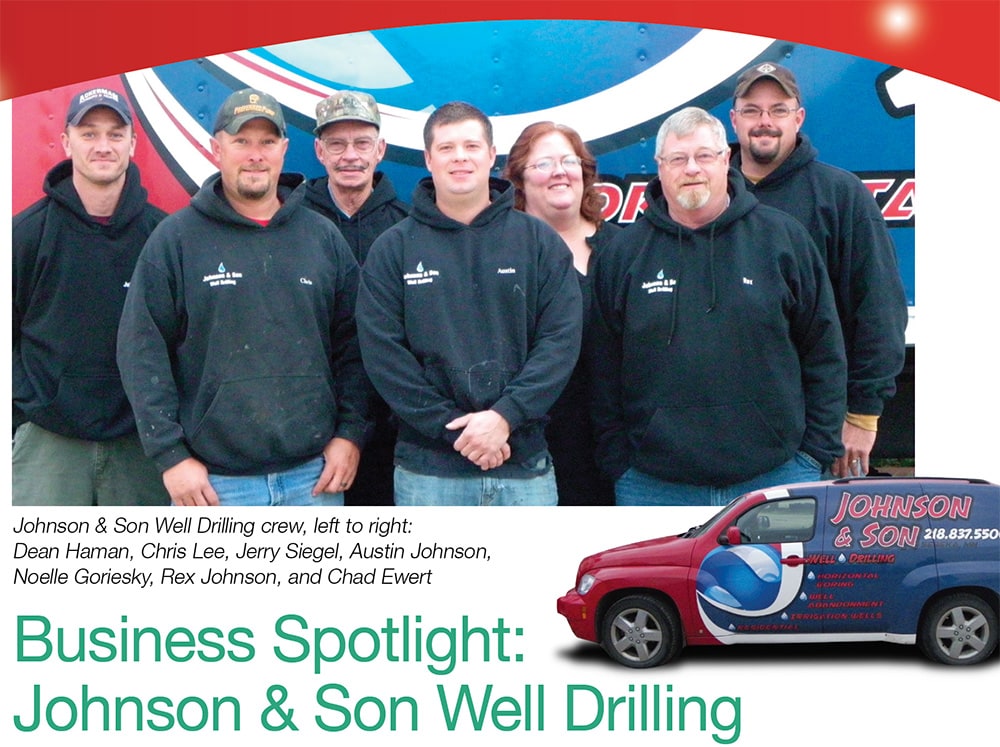 You've probably heard of Johnson & Son Well Drilling — they've been a Sebeka-based busi-ness for over 55 years! Run by 3rd generation owner Austin Johnson, the business continues to offer water well drilling services for residential and commercial clients as well as irrigation services. It also offers directional boring services, backhoe digging, pump repair and installation, and well abandonment services. Johnson & Son, located at 202 Frontage Road in Sebeka, is an authorized dealer of both Grundfos and Sta-Rite Well Pumps.
When asked how the business got its start, Austin shared, "Grandpa Doug was a man who did it all. He would build houses from the septic system and plumbing on up to the roof. One employee and long-time family friend who worked with Doug specialized in well drilling, and taught him everything he knew about drilling." Johnson & Son no longer builds houses but will design the entire well system and service and maintain it.
Austin is jokingly referred to as "the water doctor" since he's on call 24/7, 365 days of the year, to handle any water emergency within the customer base which includes a 50-mile radius of Sebeka. Next spring, Austin plans to purchase an additional service truck that will expand their service and irrigation department.
With all this going on, how does Austin keep an eye on his business? With high speed Internet and a security system from West Central Telephone, of course. Austin said, "With my surveil-lance camera system, I can see who is coming and going at my business from my home computer or while on the road from my smartphone. I sleep easier at night knowing that my property is safe and secure."
For great service, and access to the freshest water at a fraction of the utility costs, contact Johnson & Son Well Drilling at 218-837-5500 or johnsonswelldrilling@wcta.net. You can also visit johnsonswelldrilling.com.
For more information on ways to keep your property safe and secure even when you are away, give West Central Telephone a call at 218-837-5151.