Kahvila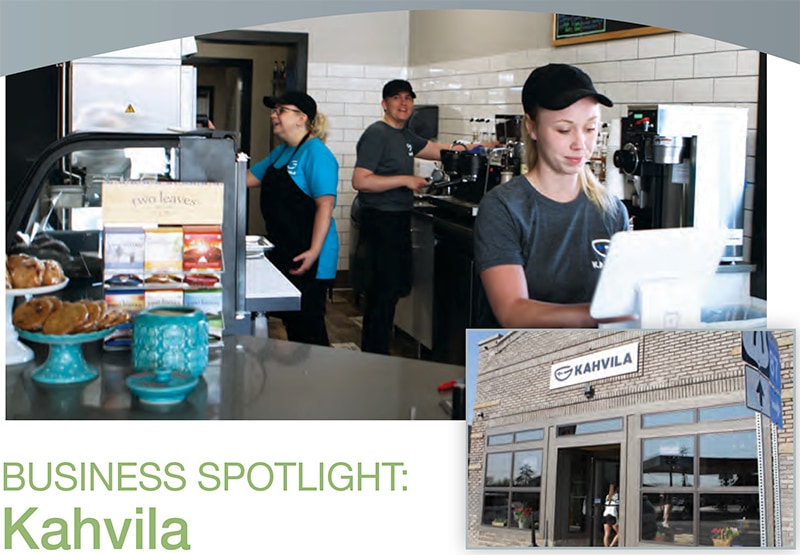 Kahvila • Highway 71, Menahga • 218-564-FINN (3466)
Kahvila, meaning "coffee shop" in Finnish, features extraordinary comfort foods, crafted coffee, and espresso. Kahvila is at the center of Menahga along Highway 71. The building has stood since the early 1900s and is the second-oldest building in Menahga. Many remember the building as the Olson Feed Store and recall walking by and seeing baby chickens in the window.
Christina Day used her love of design and experience in flipping houses to create Kahvila. She used local building materials and recruited several local contractors, as well as her brothers, Craig and Jason Korvela, and a host of talented friends, to make the coffee shop a reality. Christina is happy to boast about the "army" it took to make it all possible.
Craig, with over 25 years of restaurant experience, is the mastermind behind the creative menu. Kahvila proudly uses fresh, clean, high-quality ingredients when preparing their savory flatbread pizzas, sandwiches, and other items on the menu. Organic coffee beans, milk, heavy whipping cream, and half and half are used in their specialty beverages. Organic syrups are available, allowing the creation of a fully organic latte or mocha. Organic lemonade and smoothies are also among the large list of beverages on the menu.
Jason, with approximately 30 years of construction experience, was responsible for most of the finishing work. He continues to be a valuable "handyman" as new projects and problems arise.
Kahvila has robust internet with secure Wi-Fi and a surveillance system through West Central Telephone. Christina said, "West Central was great. They were there every step of the way making sure my network was secure and reliable."
We're sure the "old feed store" turned bistro will be your new favorite gathering place! Kahvila's friendly staff would be proud to serve you. To reach Kahvila, call 564-FINN (3466). Hours are 7am – 2pm Monday – Thursday, 7am – 7pm Friday and 8am – 2pm Saturday.