Pixel Perfect Photography and Design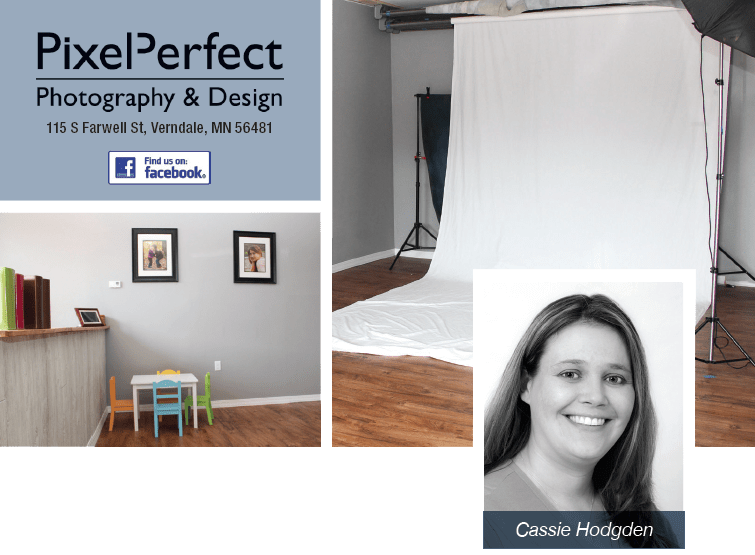 Pixel Perfect Photography and Design is open for business in Verndale, MN. Owned by Menahga native Cassie Hodgden, Pixel Perfect specializes in maternity, newborn, infants and children, family, pets, high school seniors, prom and special events photography.
Besides photography, Cassie puts her Bachelor of Fine Arts Degree in Graphic Design to use by designing one-of-a-kind invitations and announcements for customers. In fact, Pixel Perfect offers commercial photography and full graphic design services for businesses.
Although new to Verndale, her love of photography and her laid back, fun and relaxed style has led the community to embrace Pixel Perfect. She's already been booked to capture Verndale's Homecoming Coronation event.
Cassie loves meeting people, and capturing those special moments in time with her camera. Often she uploads 50 -100 enhanced, high resolution photos to an online gallery for her clients to view. Cassie said, "I don't have hours to waste watching files upload, so I was thrilled when I realized how quickly my files upload with West Central's Internet service." Cassie has West Central Telephone's all-fiber optic broadband Internet service with an upload speed of 6 Mbps. Not wanting to lose her precious work — her client's priceless photos — she also uses the high upload speeds to back up over a terabyte of files in record time.
For more information about Pixel Perfect Photography and Design, visit them on the web at www.Pixel-Perfect-Studio.com, or call 445-4283.
For more information about how West Central Telephone can speed up your time online, give us a call at 1-800-945-2163.