Pizza Ranch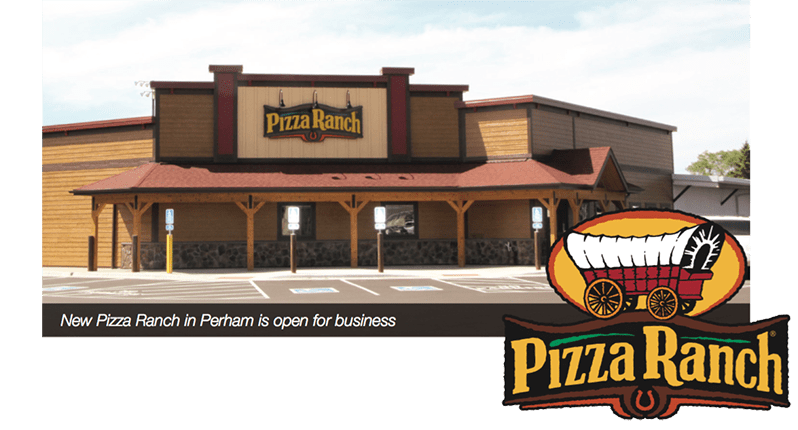 Locations: Wadena and Perham
Hours: 11am to 9pm, Monday through Saturday
In the heart of every cowboy lies a dream. The dream in this case was Pizza Ranch, and it all began in the heart of a young man in Iowa. That dream now extends to thirteen states, including Minnesota.
Darren Kelderman liked the company's mission, which was to "give every guest a legendary experience." He opened his first Pizza Ranch in Wadena, MN in 1988. The restaurant was such a welcome addition to the community that he expanded his business, opening the second Pizza Ranch in Perham, MN in the early 1990s.
On May 4, 2016, Darren moved their downtown Perham location to a newly remodeled building at 720 3rd Ave SE. The new location is able to serve more customers and has a large parking lot, something that wasn't available at their downtown location. Their menu includes the awesome buffet, Pizza Lover's Pizza, the Country's Best chicken, and their famous Cactus Bread.
The Keldermans are very focused on legendary service and quality food, and have installed West Central Telephone camera systems to help them with the day-to-day operations. The kitchen employees refer to the monitors to make sure the food bars are full and the dining area is well staffed. They also use the live and recorded footage for training purposes. Of course, the cameras also provide a level of security and allow the owners to remotely check on the business through their smartphones or other connected devices.
Darren said, "It was great to work with West Central Telephone. Their goals to provide a quality product and great customer service are very much in line with our goals."
For great food in a great atmosphere, visit Pizza Ranch in Wadena or Perham. For information on security cameras, contact West Central Telephone at 837-5151.