Sebeka Lumber Sales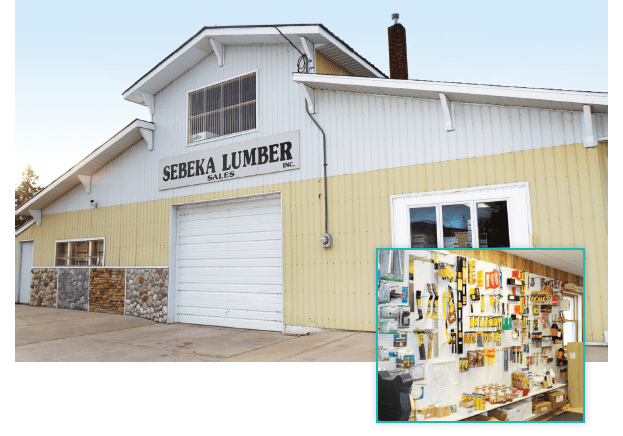 Location: 201 Minnesota Ave East, Sebeka
Hours: Mon-Fri, 8am–5:30pm; Sat, 8am-12pm
The site of a lumberyard since 1921, Clifford Gronlund began Sebeka Lumber Sales in April of 1960. At that time, rail cars brought in coal and rough lumber to be sold. Carpenters used the rough lumber to build rafters, windows, doors, cabinets and other projects.
Today, Sebeka Lumber Sales still supplies area carpenters and homeowners with materials for construction. This includes exterior siding and roofing materials, custom cabinets, countertops, molding and interior doors, drywall, paint, fixtures and more. They also supply prefinished garden sheds, garage doors, hand tools, hardware, cordless drills and storage and organization options.
Richard Gronlund bought the business from his dad in 1994 when Clifford retired. Richard said, "Sebeka Lumber Sales have supplied materials for many of the homes in the area, including Hill Top Villa Apartments, area churches and First National Bank of Sebeka. If you are ready to start your project, let us help you. Whatever it is you're looking for, we probably have it."
Sebeka Lumber Sales embraces technology, too. They use computer software to design and create estimates, and relay many through email. You'll find them online at sebekalumbersales.com and on Facebook. Besides WCTA phone service, they have high speed internet and several IP surveillance cameras. Noted Richard, "It's important to keep an eye on my business whether I'm at home, at a jobsite or out in the hunting stand. Working with West Central makes that easy to do."
For all of your building and remodeling needs, visit Sebeka Lumber Sales in Sebeka. For help keeping an eye on your home or business, contact West Central Telephone at 837-5151.