Verndale Custom Builders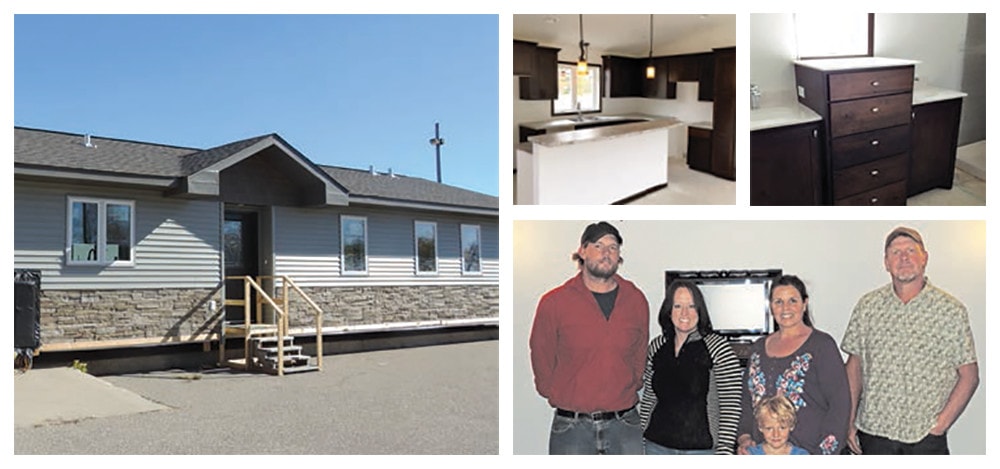 Verndale Custom Builders (VCB) manufactures system-built homes indoors. They then deliver the homes to the customer's foundation. An in-house designer assists customers with design and layout of their new home, ensuring each home is custom designed. They can build up to a 28' x 72' house.
The owners of VCB, Robert Weiher Sr. and son Robert Weiher Jr., also own Whispering Pines Log Homes and JR Construction of Verndale. These companies typically build higher-end homes capturing 15-20% of the market. When the Verndale Custom Homes facilities were for sale, the Weiher's wanted to buy the business, hoping to tap into the other 80-85% of the market. They were able to take advantage of very low interest rates through our Rural Development Loan program, which helped them complete the purchase.
We asked Bill Hess, general manager of VCB, what makes the business stand out from others? He said, "We recently had a grand opening event where several owners of a home built by Verndale Custom Homes came back to say they really enjoy their home and are glad we are back in business. That's a great legacy to build upon." VCB was able to hire many former employees, allowing them to jump right back into production.
West Central Telephone provides telephone and high-speed Internet services to VCB, and we also help them with their business phone system and computer network. All home design plans and other customer data is backed up in the cloud through our Filehopper Plus service. Filehopper Plus gives them access to files from any Internetconnected device. It also assures them that in case of a fire or other emergency, their files will remain safe. For more information about Verndale Custom Builders, visit them on the web at www.Verndalecustombuilders.com, or call 445-6006.
For more information on the Rural Development Loan program, phone systems, securing your computer network or protecting your important files, give us a call at 800-945-2163.