Community First Bank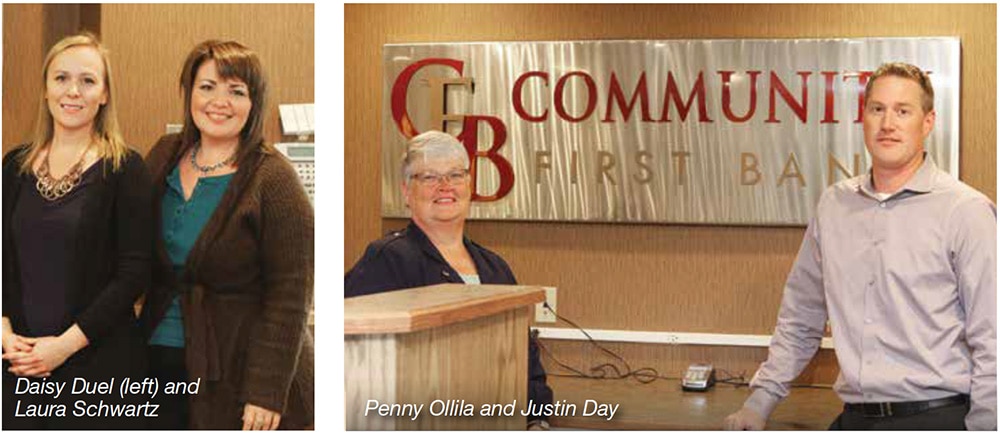 Community First Bank (formerly First National Bank of Menahga and Sebeka) has been serving the area for 120 years. Its history traces all the way back to 1898, when it was the Bank of Menahga. Renamed the First National Bank of Menahga, it received its Bank Charter in 1922 and bought Security State Bank of Sebeka in 2005. Over the years, the bank has continued to provide customer service with the small-town, old-fashioned, and friendly attitude that people appreciate.
Community First Bank offers full-service banking including personal and business checking and savings accounts as well as loans, insurance, and internet banking options. Both locations have walk-up/drive-up banking available.
When asked about the reason for the success of Community First Bank, Loan Officer Justin Day said, "It's our good and faithful customers. We never lose sight of our mission to provide community-oriented service." The bank is also vigilant with fraud protections, regulations, and current technologies.
Community First Bank uses a wide variety of technology and business solutions from West Central Telephone. A business phone system ties the two locations together, and the internet service is used for marketing and online banking services. Community First Bank also uses a virtual private network (VPN) that securely relays information between the two buildings. In addition, West Central Telephone recently installed a speaker system at the Menahga location to pipe music into the building.
For all your banking needs, contact Community First Bank at 21 Main Street NE in Menahga, 218-564-4171; or at 115 Minnesota Ave W in Sebeka, 218-837-5171. You can also get more information at www.communityfirstbankmn.com.
Call West Central Telephone at 837-5151 to learn about our phone systems, internet services, network solutions, and other business technology.