North Country Motorsports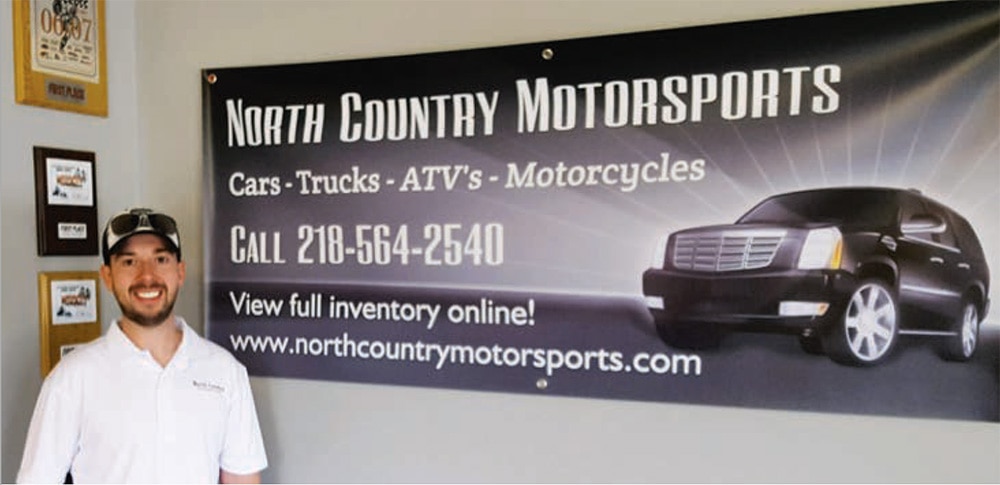 Business Address: 112 Aspen Avenue SE, Menahga, MN 56464
Business Phone Number: 218-564-2540 (office) or 218-255-3434 (cell)
Business Website: www.northcountrymotorsports.com
North Country Motorsports in Menahga is the place to go for quality used autos and motorsport vehicles. Since opening in July 2017, North Country Motorsports has accrued a small selection of used ATVs, motorcycles, snowmobiles, side-by-sides, cars and trucks.
Owned by Menahga native Trinity Junes, North Country Motorsports is the result of his lifelong interest in vehicles. ìIíve had a passion for anything with a motor my whole life," Junes said when asked about his inspiration. His years of buying experience have taught him how to treat customers, too. ìI know what it's like to be a customer, so I try to put out the best quality vehicles I can."
They list all vehicles on their website and Facebook page. Customers can see the condition of the vehicles in addition to the make, model and other information. Junes updates the statuses of his vehicles regularly so that potential customers can see if the vehicle is still available.
Security is a top priority for North Country Motorsports, as well as fast and reliable inter-net. Leased security cameras help Junes keep a careful eye on things from any location. With our unlimited high-speed internet, they can upload pictures of vehicles quickly.
For more information on North Country Motorsports, visit www.northcountrymotorsports.com or Facebook @northcountrymotorsports.
Call West Central Telephone at 837-5151 to learn about phone, internet, security and other technology solutions for your business.